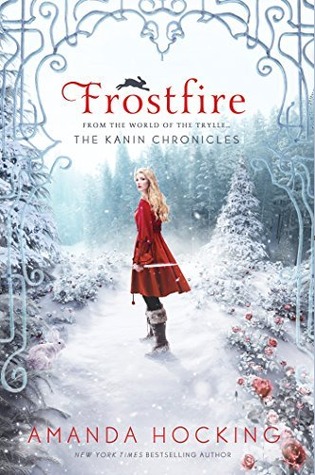 Frostfire
Kanin Chronicles #1
by Amanda Hocking
Synopsis From Goodreads
Bryn Aven is an outcast among the Kanin, the most powerful of the troll tribes.
Set apart by her heritage and her past, Bryn is a tracker who's determined to become a respected part of her world. She has just one goal: become a member of the elite King's Guard to protect the royal family. She's not going to let anything stand in her way, not even a forbidden romance with her boss Ridley Dresden.
But all her plans for the future are put on hold when Konstantin– a fallen hero she once loved – begins kidnapping changelings. Bryn is sent in to help stop him, but will she lose her heart in the process
Trolls that are like humans but with powers or trolls that remind me of the elves I usually read about. Cool because they are trolls but why are the not elves? Are elves over done? I don't know I dig all paranormal/fantasy stuff so trolls that are good looking and not slobbering neanderthals is cool.
Bryn she's pretty kick butt. I totally dig the fact she wanted to be apart of the Elite guard and because of an almost killing by Konstantin who was pretty much an idol to her she's now this kick butt tracker and disguised in the human world to find other trolls that are coming of age.
Okay, so the whole like changeling baby switch thing is pretty cool. Sad but I think pretty cool. I like how when she brings the kid back to the other world that she helps indoctrinate them into the society and try to help explain how things work for them.
Different troll factions different troll way of thinking. I look forward to reading more about the other factions.
The ending was frustrating but because I'm a curious person and I like how I think this series is going to go I'm going to be forgiving and read the next book in the series.
Action, fantasy, politics, back stabbing, revenge, interesting characters and although it lulled in places it was an interesting story.