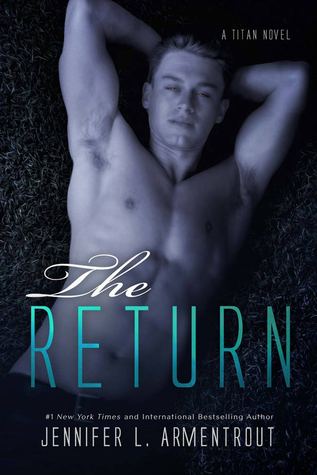 The Return
Titan #1
By Jennifer L Armentrout
Synopsis from Goodreads

:

The Fates are cackling their bony asses off…

It's been a year since Seth made the deal with the gods that pledged his life to them. And so far, the jobs they've given him have been violent and bloody–which is kind of all right with him. But now Apollo has something else in mind for Seth. He's got to play protector while keeping his hands and fingers off, and for someone who really has a problem with restraint, this new assignment might be the most challenging yet.


Josie has no idea what this crazy hot guy's deal might be, but it's a good bet that his arrival means the new life she started after leaving home is about to be thrown into an Olympian-sized blender turned up to puree. Either Josie is going insane or a nightmare straight out of ancient myth is gunning for her.
But it might be the unlikely attraction simmering between her and the golden-eyed, secret-keeping Seth that may prove to be the most dangerous thing of all.

Because history has once again been flipped to repeat.

Book 1 in the new adult paranormal TITAN series, spin-off to the best selling COVENANT series










My Review:

5/5

Woohoo more Seth! Okay if you read the Covenant series you'll know why and understand my excitement for this book.


Seth has made wrong choices in his past and those choices got him in the situation where his life and afterlife is now in the hands of the God's and he has to do their biddings.


Still sulking and thinking he does not deserve forgiveness for the wrongs he had committed Seth gets sent on protection duty by Apollo. The girl Seth is sent to protect is something otherworldly herself and has probably one of the coolest best friends who happens to not like Seth so much. Josie also shows Seth that sometimes the hardest thing for someone to do is forgive themselves no matter how much they need it to move on.


This book of course was excellent. Seth is back with other characters as well from the Covenant series and new characters are introduces. There is action, romance, mystery and humor. The author knows how to break your heart and make you laugh.

If you liked the Covenant series or just like books that have to deal with the gods and Titans. A fantastical action filled humorous New Adult book with adventure, romance and mystery. I'm super excited for the next in this series.