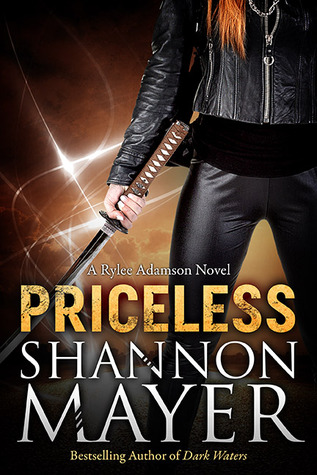 Priceless
( Rylee Adamson #1)
by Shannon Mayer
Synopsis from Goodreads:

"My name is Rylee and I am a Tracker."




When children go missing, and the Humans have no leads, I'm the one they call. I am their last hope in bringing home the lost ones. I salvage what they cannot.




I'm on the FBI's wanted list.




I have a werewolf for a pet, a Witch of a best friend, and have no need for anyone else in my life.




But when a salvage starts to spin out of control, help comes from a most unexpected direction. One that is dangerously dark, brooding, and doesn't know a thing about the supernatural.




One whose kisses set me on fire






I picked this story up because I was in between books and thought a chick who kicks butt looks for abducted kids and has a werewolf for a pet sounds awesome.




And it was good. It got right into the action and it was non stop constantly moving. At times the dialogue seemed off but for me it didn't take too much from the story. I just went with it and enjoyed the fun at times humorous action packed adventure .




Loved the take on werewolves and harpies.




Anyway great twists, great action, love the take on the paranormal and fantasy creatures we are introduced to.






Action! Butt Kicking Heroine! Ogres! Vampires! Harpies! Werewolves! Witches! Good Looking cranky FBI investigator. This book in my opinion was fun and a good start to what looks like will be an interesting series. I'm hoping it keeps getting better.