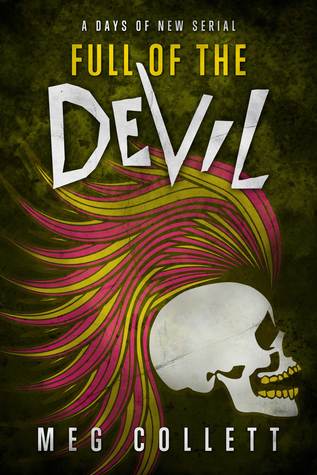 Full of the Devil
Days of the New #2
Meg Collett
Synopsis from Goodreads

Set in the same world as the bestselling End of Days series comes the darkly comedic stand-alone serial spin-off, Days of New.

As an angel from the Throne choir, Camille knows war. It's what she was created for. She's captured and killed and conquered. She's been on the frontlines of every angel battle ever fought since the creation of man. And she has the surly attitude to prove it.

But she's never been in love before. What she feels for Clark is her greatest weakness, and she fears it'll be her ultimate ruin. Because to love Clark is to stand in the shadow of the greatest angel ever made: Michaela, the Angel of Death. Camille highly doubts there is any room left in Clark's heart for her.


Love hurts, and Camille is used to killing whatever tries to hurt her. Or looks at her funny.


Clark St. James has problems—problems that have landed him in jail with the most unlikely of…roommates. It's not good timing all around. The Descendants of Enoch's precious order is collapsing from the lack of leadership. The Nephilim are in disorganized shambles. And the refugees are panicking. It's chaos. And Clark can't do a damn thing about it.


But you better believe that Camille sure as hell will






My Review
5/5


I got this for my honest review

Picking up from where the first book left off. Clark is imprisoned, possessed and waiting for trial.

This book is more from Camille's point of view. She's in love with Clark but doubts that he has the capacity to love her. That doesn't stop her from doing all she can to help save him. And of course being an angel from the Throne choir she knows how to kick some serious butt.

It was cool to read things from Camille's point of view and see how deep and complicated her feelings are.Plus like I said she kicks butt and keeps the action going.

Action packed, hard to put down thrill ride that ends in a killer cliff hanger that makes me even more excited for book #3.