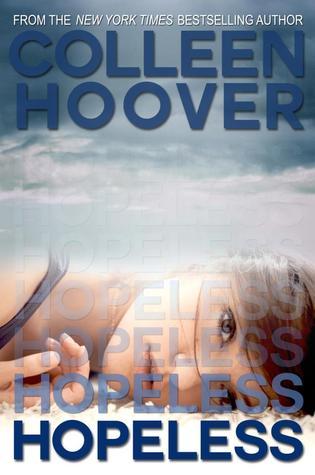 Hopeless
Hopeless #1
by Colleen Hoover
Synopsis from Goodreads
Sometimes discovering the truth can leave you more hopeless than believing the lies…
That's what seventeen-year-old Sky realizes after she meets Dean Holder. A guy with a reputation that rivals her own and an uncanny ability to invoke feelings in her she's never had before. He terrifies her and captivates her all in the span of just one encounter, and something about the way he makes her feel sparks buried memories from a past that she wishes could just stay buried.
Sky struggles to keep him at a distance knowing he's nothing but trouble, but Holder insists on learning everything about her. After finally caving to his unwavering pursuit, Sky soon finds that Holder isn't at all who he's been claiming to be. When the secrets he's been keeping are finally revealed, every single facet of Sky's life will change forever
My Review
3/5 Stars
Wow… the author puts your emotions through the ringer with this story.
At first I was not sure if I was going to like this book at all. Holder was creepy and Sky still was wowed over him and felt an instant pull to him. Yet it turned out to be a really good young adult story.
I enjoyed Sky's attitude towards others and life. I loved how she took the horrible notes left on her locker and was strong enough to make them into something funny instead of being hurt by ugly peoples words. She's honest and always say's whats on her mind. She's pretty sheltered especially electronically and reading about her trying to use things like a cell phone was pretty funny. Holder…. yes creepy and aggressive and came off like a stalker at first. I'm pretty sure she even accuses him of stalking. Anyway he turns to be a funny, likable, misunderstood and adorable guy although very determined. I loved the banter between these two and reading how their story grows and how it came to be. The more the relationship developed the more I enjoyed reading this book.
I got absorbed into this book and could not set it down. And it wasn't even just the romance that kept me reading it was the whole mystery behind Sky and her past and watching her make her way through her senior year in a public high school for the first time without her best friend there but the stigma her best friends decisions and the impact it had on her reputation and how Sky handled it.
I enjoyed this book and I see myself picking up other books by this author. I think anyone who is a hopeless romantic, likes a heart wrenching mystery would enjoy this book.
I think the only caution I have is that its totally the hot creepy guy book. Where I was like seriously!!? He has emotional issues! but its a work of fiction and if you can look past creeptastic Holder part and keep reading its a good story. To me he redeemed himself especially in the end.
Sad, heart wrenching, utterly romantic read. This author delivers a lot of gritty, emotional and heartbreaking scenes with some light humorous ones.