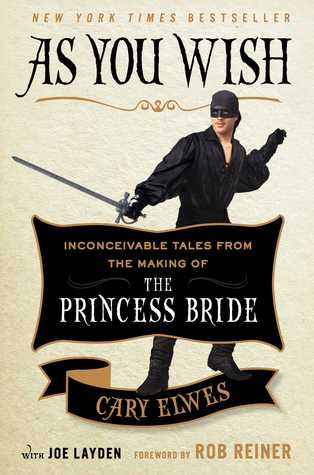 As You Wish: Inconceivable Tales from the Making of The Princess Bride
By Cary Elwes, Joe Layden, And a forward by Rob Reiner

From actor Cary Elwes, who played the iconic role of Westley in The Princess Bride, comes a first-person account and behind-the-scenes look at the making of the cult classic film filled with never-before-told stories, exclusive photographs, and interviews with costars Robin Wright, Wallace Shawn, Billy Crystal, Christopher Guest, and Mandy Patinkin, as well as author and screenwriter William Goldman, producer Norman Lear, and director Rob Reiner.




The Princess Bride has been a family favorite for close to three decades. Ranked by the American Film Institute as one of the top 100 Greatest Love Stories and by the Writers Guild of America as one of the top 100 screenplays of all time, The Princess Bride will continue to resonate with audiences for years to come.




Cary Elwes was inspired to share his memories and give fans an unprecedented look into the creation of the film while participating in the twenty-fifth anniversary cast reunion. In As You Wish he has created an enchanting experience; in addition to never-before seen photos and interviews with his fellow cast mates, there are plenty of set secrets, backstage stories, and answers to lingering questions about off-screen romances that have plagued fans for years!




With a foreword by Rob Reiner and a limited edition original poster by acclaimed artist Shepard Fairey, As You Wish is a must-have for all fans of this beloved film


My Review:
5/5 Stars




Like many other I adore The Princess Bride ( The book and the movie) so when I saw this at the library I snatched it up finally having some time to myself I sat down and read it in one sitting.




This was defiantly a fun behind the scenes look at the making of The Princess Bride from Cary Elwes point of view. There was also snippets from the other cast and crew members and the author of the book that made it even more enjoyable to read.



I learned so much information about the movie that I didn't know and gained much more admiration for everyone that helped put such a wonderful movie together. It just shows how much people loved the book and that when they finally get a great director and amazing actors and crew member who most shared the same admiration were able to pull off such a wonderful film.




I loved reading all the stories Cary and the other crew members had about Andre the Giant. They all seemed to have adored him so much and it was hard not to pick up that adoration.




As for the writing itself it took me a bit to get used to. There was a lot of " I'll get to that later" or " Thats another story for later" stuff like that that at first drove me sort of bonkers but as I kept reading it I got used to the informal flow of it and just started enjoying it. Even the snippets of dialogue on the side of the pages drove me crazy at first but I got used to it.




And of course after you get done reading it you're going to want to put the movie on and pick out the parts that was talked about.






Definitely one for the fan of the movie and the book. Humorous, fun, informative, sweet read.