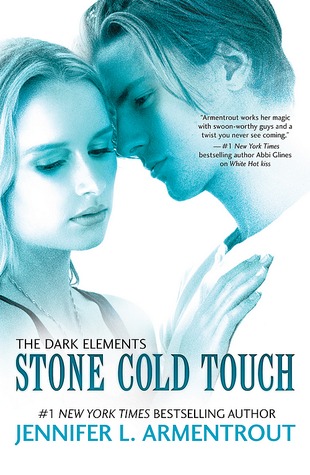 Stone Cold Touch
The Dark Elements #2
by Jennifer L. Armentrout
Synopsis From Goodreads

Every touch has its price




Layla Shaw is trying to pick up the pieces of her shattered life—no easy task for a seventeen-year-old who's pretty sure things can't get worse. Her impossibly gorgeous best friend, Zayne, is forever off-limits thanks to the mysterious powers of her soul-stealing kiss. The Warden clan that has always protected her is suddenly keeping dangerous secrets. And she can barely think about Roth, the wickedly hot demon prince who understood her in ways no one else could.




But sometimes rock bottom is only the beginning. Because suddenly Layla's powers begin to evolve, and she's offered a tantalizing taste of what has always been forbidden. Then, when she least expects it, Roth returns, bringing news that could change her world forever. She's finally getting what she always wanted, but with hell literally breaking loose and the body count adding up, the price may be higher than Layla is willing to pay






The last book had me loving Roth and this book had me loving Zayne….until the end where now I'm confused and mad and ahhh I think she should just run away with both and they live together happily or semi happily..




There were some epic action moments. Great bantering. Some heartbreaking moments and some hopeful moments. Layla is totally kick butt awesome but still vulnerable and makes mistakes. There was moments where my heart wrenched for Layla and where my heart swelled.




We get introduced to some witches in this one! I'm interested in how that all pans out. And what exactly was offered up at the end.




The story was wonderful. It had action, humor, mystery and some great twists. Also a wonderful cliffhanger of an ending! When I got to the end I was like… Whhhhhaaaaattt? what? WHAT? No!! What? I kept trying to turn the page in hopes that more would appear on my kindle.. I think my heartbroke a little at the end.






This is a fun filled action pack, emotional roller coast of a ride. Wether your team Roth or Team Zayne it'll definitely have you at the edge of your seat and not wanting to put the book down and respecting both guys for how much they adore Layla in their own ways ( I stayed up till 4 am reading it.) .