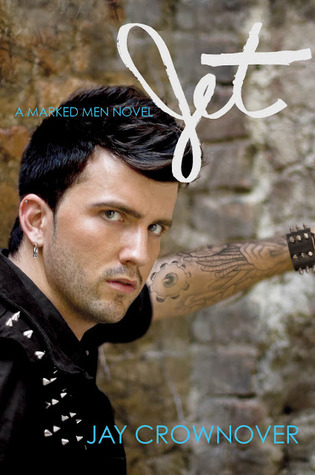 Jet

Marked Men #2

Jay Crownover






Synopsis from Goodreads

With his tight leather pants and a sharp edge that makes him dangerous, Jet Keller is every girl's rock and roll fantasy. But Ayden Cross is done walking on the wild side with bad boys. She doesn't want to give in to the heat she sees in Jet's dark, haunted eyes. She's afraid of getting burned from the sparks of their spontaneous combustion, even as his touch sets her on fire.




Jet can't resist the Southern Belle with mile-long legs in cowboy boots who defies his every expectation. Yet the closer he feels to Ayden, the less he seems to know her. While he's tempted to get under her skin and undo her in every way, he knows firsthand what happens to two people with very different ideas about relationships.




Will the blaze burn into an enduring love. . . or will it consume their dreams and turn them to ashes?






My Review
3/5 Stars




Nice for a quick light read to get lost in.




Ayden got on my nerves but whatever the poor girl was trying to turn over a new leaf and not let her heart take over. I did like her take no crap attitude. I understand her I can do this myself mentality but I think it just got tiring so I was happy when she finally accepted Jet.




Jet was a great character to easily swoon for. He was understanding and completely sweet even his reason for avoiding Ayden was just a nice guy thing.




I liked that there was also more of the other characters in this book especially Rowdy I'm looking forward to reading his book. I also enjoyed the fact we still got to see some of Rule's and Shaw's relationship. That even though this was about Ayden and Jet they others were still in there and drawing my interests.




The author did a wonderful job bringing out both points of views of the characters and even at times when I thought they were being stupid I still could understand possibly why they would do what the did. I think where she lost my interest is some of the repetition of stuff like Aydens legs, Jets tight pants and Jets abs. I got it.. She's leggy and beautiful and he's hard core hot.






A great quick read that has a little mystery, lots of romance, It'll play with your emotions and has a wonderful ending.