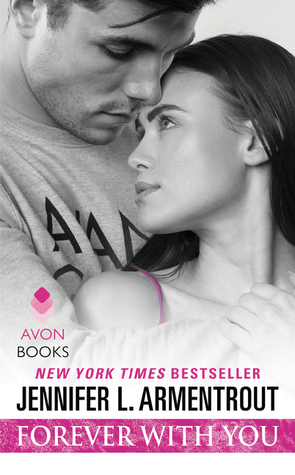 Forever With You
By Jennifer L. Armentrout
Synopsis:
In the irresistibly sexy series from #1 New York Times bestselling author Jennifer L. Armentrout, two free spirits find their lives changed by a one-night stand…
Some things you just believe in, even if you've never experienced them. For Stephanie, that list includes love. It's out there. Somewhere. Eventually. Meanwhile she's got her job at the mixed martial arts training center and hot flings with gorgeous, temporary guys like Nick. Then a secret brings them closer, opening Steph's eyes to a future she never knew she wanted—until tragedy rips it away.
Nick's self-assured surface shields a past no one needs to know about. His mind-blowing connection with Steph changes all that. As fast as he's knocking down the walls that have kept him commitment-free, she's building them up again, determined to keep the hurt—and Nick—out. But he can't walk away. Not when she's the only one who's ever made him wish for forever
I love this series.
Stephanie kicked butt. I loved how she was smart and not ashamed of the way she feels about sex. Although I wished she would have kicked that dbag she worked with butt for the way he treated her and made her not feel safe in her place of work.
Nick well I didn't care for Nick at first. I didn't think there was going to be a way for him to redeem himself but of course he comes back and does. He ended up being such a freaking sweet heart. I don't think I ever say this about a character but he was one of those "swoon worthy" dudes.
The story was great full of fun, humor, steamy scenes and then bam you get the whole heartbreaking emotional part of the story in which I actually cried for them a bit. They got themselves into a situation which we get to watch their struggle and heartbreak and I kept turning the pages because I hoped that they would make it through as happily as they could.
Great characters, great story, humor, steamy scenes, tragedy and heartbreak. Looking forward to more from this series.