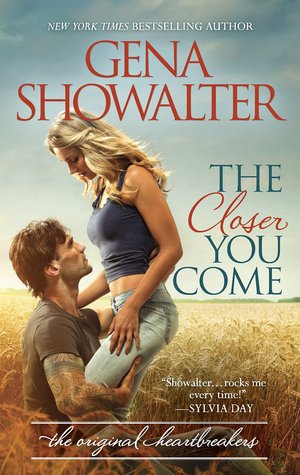 The Closer You Come ( The Original Heartbreakers #1)

by Gena Showalter


Synopsis From Goodreads:
New York Times bestselling author Gena Showalter introduces the Original Heartbreakers, where three not-quite-reformed bad boys are about to meet the women who will bring them to their knees.
Just released from prison, Jase Hollister has a dark and twisted past. And now, he has only one goal: stay out of trouble. Strawberry Valley, Oklahoma, sounds like the perfect place for him and his two brothers-by-circumstance to settle down and live a nice, simple life. But model citizen isn't exactly this rugged bachelor's default setting—especially when it comes to a certain hot-blooded Southern beauty…
Brook Lynn Dillon has always been responsible. Not that it's done her much good. The down-on-her-luck waitress is broke, single and fun-deprived. Until Jase comes along. He is dangerous, stunningly protective, breathtakingly sexy and as tempting as sin, and the passion sizzling between them is undeniable. But can it melt her resistance? After all, the right kind of trouble might be just what they both need
Okay, Gena Showalter is another favorite author of mine. If I don't love her characters and books I at least like them.
That being said.
Besides the awkwardness of how Brook-Lynn met Jase. I really enjoyed this story.
Jase had a difficult past. One that made him think he was undeserving of a loving relationship. He doesn't talk about his past with anyone ( except what his friends know). Tattooed and off putting Jase comes off as cold and distant, but he warms up to Brook Lynn and through out the book he does helpful things for people in town.
Brook Lynn is a sassy smart mouthed woman trying to keep her older sister some what under control. She's hardworking and responsible. I adore Brook Lynn for those qualities and the fact she displays extreme loyalty to her sister even if they fight often. She also comes from a troubled past that leaves her with some issues of her own.
There was a little bit of a mystery character in it that caused some drama towards the end. West has his own issues which come to a point I think half way through the book I find him to be rather fascinating character himself along with Beck. Then the twist at the end when another character was introduced with a surprise in tow.
Like I said I found this story enjoyable and entertaining. I love the strong protective male characters who are also funny. I loved the sassy females who were funny and took no crap from others. I could see how the way Brook Lynn meets Jase could be off putting for some people. I mean even I cringe at the thought. But, I keep telling myself sometimes you can't help how you feel and in small towns awkward things can happen.
Wonderful story, lots of humor, a little mystery, some heart wrenching parts, and of course your steamy and romantic parts. I found the characters to be wonderful. I'm looking forward to reading about the other guys ( West and Beck).