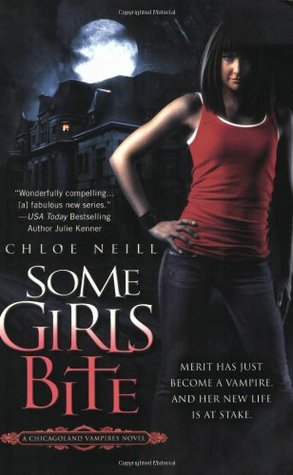 Some Girls Bite
Chicagoland Vampire #1
Chloe Neill
Synopsis from Goodreads:
They killed me. They healed me. They changed me.
Sure, the life of a graduate student wasn't exactly glamorous, but I was doing fine until Chicago's vampires announced their existence to the world. When a rogue vampire attacked me, I was lucky he only got a sip. Another bloodsucker scared him off and decided the best way to save my life was to make me the walking undead.
Now I've traded sweating over my thesis for learning to fit in at a Hyde Park mansion full of vamps loyal to Ethan "Lord o' the Manor" Sullivan. Of course, as a tall, green-eyed,
four-hundred-year-old vampire, he has centuries' worth of charm, but unfortunately he expects my gratitude—and servitude. Right…
But someone's out to get me. Is it the rogue vampire who bit me? A vamp from a rival House? An angry mob bearing torches?
My initiation into Chicago's nightlife may be the first skirmish in a war—and there will be blood.
My Review:
4/5 Stars
So I first came into this book thinking " Maybe some kind of True Blood spin off type thing" but the more I read the more I realize I was wrong. I really enjoyed this book.
One I enjoyed reading about the politics between the supernaturals, the "ombudsman" and the humans.
Two: Merit was an amazing character. She didn't want to become a vampire she didn't just role with everything that she was supposed to she questioned things and feelings. And I liked that she was loyal. Even if she didn't care for the position she was in she was still loyal to those who earned it.
Three: The relationship between Merit and Ethan is great to watch. She doesn't give in to him no matter how much respect this 400 year old vampire demands of her and he mostly respects her and her thoughts. What he does as her "Master" was harsh but she does what her position should do and than at the end… Wow for some reason I did not see that coming.
Four: Lots of humor.. I laughed a lot through out this book. I enjoy books with characters that kick butt and can have a good humor about things.
Five: The whole world of what Merits grandfather does interests me and I want to see more of this. I want to know what happens between Merit and her brother ( if anything ) when he takes over their fathers position. I want to know what happens between Merit and Ethan, I want to know what happens with the Rogues and the Vampire houses and well I want more! I'm looking forward to the next book.
I really enjoyed this book. I was in the mood for a good urban fantasy that could draw me in and that is exactly what I got.