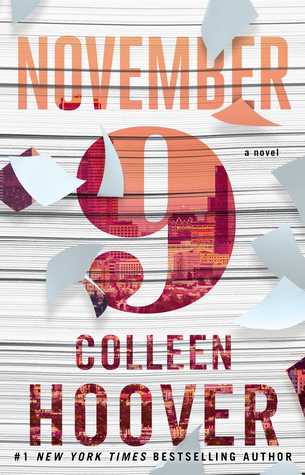 November 9
By :Colleen Hoover
Synopsis from Goodreads:
Beloved #1 New York Times bestselling author Colleen Hoover returns with an unforgettable love story between a writer and his unexpected muse.
Fallon meets Ben, an aspiring novelist, the day before her scheduled cross-country move. Their untimely attraction leads them to spend Fallon's last day in L.A. together, and her eventful life becomes the creative inspiration Ben has always sought for his novel. Over time and amidst the various relationships and tribulations of their own separate lives, they continue to meet on the same date every year. Until one day Fallon becomes unsure if Ben has been telling her the truth or fabricating a perfect reality for the sake of the ultimate plot twist.
I like the way this author writes. I enjoy her stories and her characters. She does well with sucking me in emotionally and getting you fixated on the characters. This really is a cute story and I enjoy how it was written which was different from other books I've read.
I loved how Fallon and Ben met and how every year they would meet. I enjoyed how they boosted each other up and wouldn't let the other not achieve their goals no matter how much it hurt. At points my heart broke with them and at other points I was elated for them.
I didn't care for some of the things Ben said. I didn't care for the insta love thing, and I was kind of disappointed I guessed the ending of the book as fast as I did. I think those who love New Adult books would really enjoy this.
Its cute, Wonderful writing, cute young adult characters, a story that is unique ( at least for me), kinda insta love, lots of humor,heartbreak, quick read, a plot twist and a smashing ending.