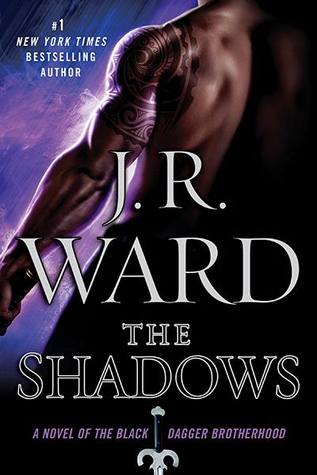 The Shadows
( Black Dagger Brotherhood #13)
by J.R Ward
Synopsis from Goodreads:
Trez "Latimer" doesn't really exist. And not just because the identity was created so that a Shadow could function in the underbelly of the human world. Sold by his parents to the Queen of the S'Hsibe as a child, Trez escaped the Territory and has been a pimp and an enforcer in Caldwell, NY for years- all the while on the run from a destiny of sexual servitude. He's never had anyone he could totally rely on... except for his brother, iAm.
iAm's sole goal has always been to keep his brother from self-destructing- and he knows he's failed. It's not until the Chosen Serena enters Trez's life that the male begins to turn things around... but by then it's too late. The pledge to mate the Queen's daughter comes due and there is nowhere to run, nowhere to hide, and no negotiating.
Trapped between his heart and a fate he never volunteered for, Trez must decide whether to endanger himself and others- or forever leave behind the female he's in love with. But then an unimaginable tragedy strikes and changes everything. Staring out over an emotional abyss, Trez must find a reason to go on or risk losing himself and his soul forever. And iAm, in the name of brotherly love, is faced with making the ultimate sacrifice..
Lets start with the main story Trez and Serena, sweet sad and emotion filled although kind of bland. Ups and downs because of their predicament but I guess I was expecting a different ending to it. I did enjoy Trez and iAm's connection and love for each other and the length iAm would go to protect his brother. That was sweet.
I think I enjoyed iAms part of the story more than Trez and Serena's. His part was more of a mystery and had some excitement to it.
Xcor and Layla still play a good part in the story which I'm not sure how I feel about whats going on with that relationship. I am intrigued and wondering if Xcors group will somehow join ranks with the BDB.
Rage is going crazy. I don't even know what to say about that. He just keeps popping up in the story with these anxiety attacks or something. I found it kind of taking away from the story. I mean maybe it'll go somewhere in the next books so we know whats going on but in this story he's just going crazy missing his woman.
All in all.. I didn't get into this one as much as I did the others. The story was good. The action seemed more minimal. I am interested in what is going to happen with Paradise and if anymore females try out to become a part of the BlackDagger Brotherhood. iAm's and Trez's past is interesting along with what was going down in the S'Hsibe.
It held my interest although it was a struggle at points but its part of a series I started and really liked so I feel the need to keep with it and see it through. So, this one maybe was sort of a miss with me. I liked the Shadow brothers but not so much the story.