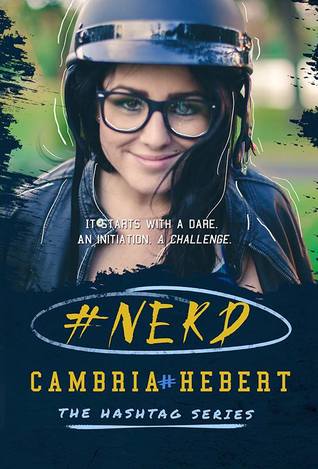 #Nerd
(Hashtag #1)
by Cambria Herbert
Goodreads Synopsis:
Two people from completely different worlds are about to be thrown together…
In more ways than one.
She wants to keep her scholarship. He wants to stay on the team. An awkward alliance doesn't even begin to cover Rimmel and Romeo's relationship.
But that's about to change.

It starts with a dare. An initiation. A challenge.

Quickly, it turns into more. But when you're a victim of your status, there is no room for anything real. The rules are clear and simple.

Stick to your circle.

And never fall in love with anyone on the outside





My Review
3/5 Stars


It was cute. Typical Nerd and Athlete fall in love story. They're from opposite worlds could they ever really be together? Rimmel is adorable she's going to school to be a vet and spends most of her time at an animal shelter talking to a one eyed cat. Romeo is a top notch, sought after, charming football player who needs Rimmel as his tutor to help with his grades. He sees something in her that he likes and she likes him too. She tries to fight it at least a little.


Theres more go on than just their relationship also. Roman has his own stuff with a Frat he's pledging for and Rimmel has her own secrets.


Cute story for those days you want a quick adorable read or if you like the college nerd and jock romances. Reminds me of that movie She's All That.